April 26, 2017
This Install Guide describes what you need to do to run P1TS on one or more computers at the IMSA (ERmon) pit lane network.
P1TS software is divided into two parts:

P1TS Server - This part is a web server that runs on one or more (for redundancy) of your Windows PCs. "Server" can refer to either hardware or software - in our case, the P1TS Server is software. It runs in the background and mostly produces diagnostic messages that you can ignore. It delivers the P1TS Chrome App to any number of your Chrome browsers when you enter the server's URL in the address bar. The server processes IMSA's raw ERMon timing and scoring data either live from the IMSA pit lane network, or from previously captured replay files.
P1TS Chrome App - As the names suggests, this part runs in the Google Chrome web browser and is the web page that you see and click around in. Your Chrome App runs on any device (Windows, Mac, IOS or Android tablet, even phone) that runs Chrome and is on your P1TS server's network. The app continuously get the latest information that the server has processed and formatted to create live, interactive displays for the user.
---
The entire P1TS server install media will be delivered to you either on a flash drive or from a download site. When using a dedicated PC, it's safest to have at least a mid-level PC (no Atom processors!) with the following specs:
| Feature | Recommended Minimum | Comments |
| --- | --- | --- |
| Operating System | Windows 7 through 10 | My loaner PCs run Win32 7 and XP. |
| Processor | Core 2 Duo or higher | My loaner desktops are Win32 7, 3GHz Core 2 Duo, 4GB RAM, 160GB HDD |
| Processor Speed | 2.5 GHz or higher | |
| Processor Cores | Dual core or higher | If serving multiple Chrome browsers, more processors (cores) are better |
| RAM | 4GB | It can probably run on 2GB, though Rolex 24 may be dicey |
| Disk | 160GB HDD/SSD or greater | Need enough room for install |
The install is a typical Windows setup program p1ts-setup.exe that takes you through a series of screens. It installs the following:
P1TS Server - Start
P1TS Server - Stop
Uninstall P1TS Server
Additionally, it will install Windows shortcuts to the following locations:
Program Folder
Desktop
Start Menu
Startup
After the install is complete, you may start the P1TS Server through any of the Windows shortcuts mentioned above. Subsequent Windows restarts will start the P1TS Server since a shortcut has been installed in the Startup folder.
When you P1TS Server - Start, it runs as a black background text window whose title also displays the PC's IP address. Ignore the internal messages that scroll by.



It appears in the Windows system tray as a

P1 icon. You can minimize it, but don't close it.
Windows Firewall dialog will appear the first time each version of P1TS Server is run. This dialog tells you that the P1TS program (which is a web server) wants to allow programs (Chrome) to communicate with it through your network.
This machine's Windows "network location" is Private, so that checkbox was checked rather than the broader Public option.
Click Allow access so that your Chrome browsers (both those on this machine, as well as others on your network) can access the P1TS server on this machine.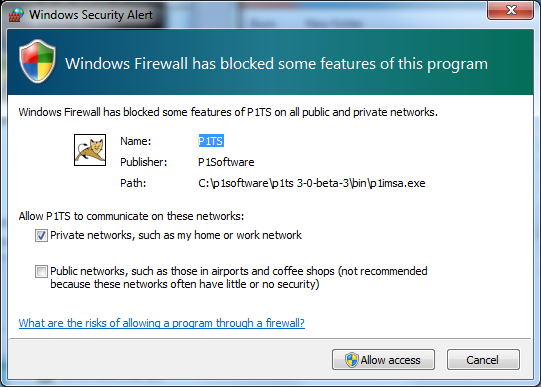 ---
Surprise, there's nothing to install!
Although there is no install, you do however need to get the IP address of your P1TS server(s) to type in your Chrome browser. You can get the server's IP address by any of these means - pick one:
The P1TS Server's IP address normally appears in its title bar as show in step 3.2 (192.168.1.186 in this example). This is the easiest way to determine the P1TS Server's IP address.
Windows ipconfig.exe - Running this on the server PC is a standard, off-the-shelf way to find its IP address:

Start > Run and type cmd /k ipconfig to run ipconfig.exe.
In the resulting cmd window, find the IPv4 Address (192.168.1.186 in this example).


p1ts-isserver.exe - Running this program in a Windows Command Prompt will search your LAN for P1TS servers. We see in the example below there are two - at IP addresses 192.168.1.175 and 192.168.1.178 (this is an example different from .186 above).

p1ts-isserver.html - (More to come)
Just about any decent Chrome device can run the P1TS web app reasonably well including desktops, laptops, tablets, and even phones.
The new Track Map will opportunistically use as much CPU available to animate car marker movement. So, the faster the CPU, the less choppy the animation. The table below summarizes experiences with various Chrome devices.
| Chrome device | Device type | Comments |
| --- | --- | --- |
| MacBook Pro: i7, 16GB RAM | Laptop ($3K) | Excellent performance |
| Dell Precision M4700: 3GHz i7, 32GB RAM | Laptop ($1K) | Excellent performance |
| HP Elite 8000: 3GHz Core 2 Duo, 4GB RAM | Desktop ($100) | Excellent performance |
| Samsung Galaxy Tab S2: 8" | Tablet ($400) | Excellent performance |
| Droid Turbo 2 | Smartphone ($500) | Good Track Map performance, but screen is too small |
| Toughbook CF-18: Pentium M, 1.2 GHz, 1GB RAM | Laptop ($300) | Choppy Track Map |
| iPad: Old 2nd Gen | Tablet ($200) | Choppy Track Map. |
---
There are several ways to deploy P1TS on your network depending upon the your requirements. In this section, we'll examine the different deployments and how to chose the one that best matches your needs.
| Configuration | Comments |
| --- | --- |
| 5.2. Minimal | For budget, low-fuss deployments (sacrifices redundancy) |
| 5.3. Redundant | Recommended configuration if you have two or more PCs available |
| 5.4. WiFi | When you have more laptops than Ethernet ports on your router, or if you have WiFi-only devices (e.g., tablet) |
You may skip this sub section if you were not a P1TS customer in 2015 or 2016.
If you were a 2015 or 2016 P1TS customer, you'll notice that you are now installing a P1TS server onto your PCs which you did not have to do in 2016 or earlier. This reference diagram shows how it was formerly installed at IMSA's timing and scoring tower.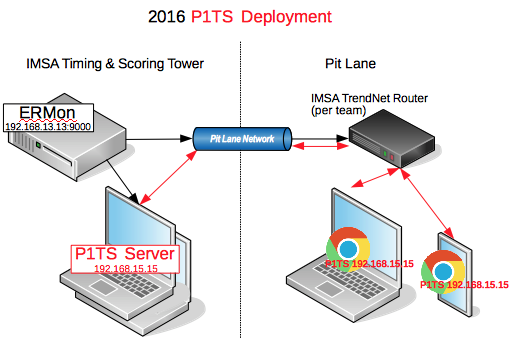 If you have only a single PC available, this is your minimal configuration. A shortcoming is - if something goes awry with that PC, you may need to restart its P1TS server and thus lose session data history.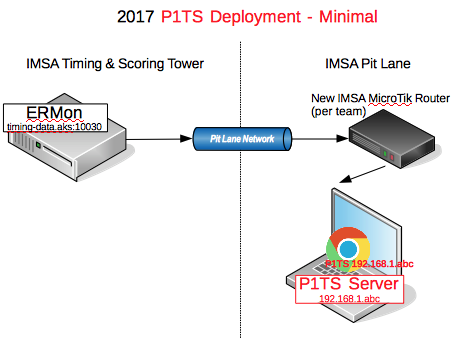 To avoid unexpected environmental failures with the primary P1TS server (e.g., 192.168.1.abc), it is recommended to run a secondary P1TS server on a second PC (e.g., 192.168.1.xyz).
You can point your Chrome browsers at the main P1TS server (e.g., 192.168.1.abc) and switch to the second (e.g., 192.168.1.xyz) if there are problems with the first (as pictured below).
If you have an adequate machine, these PCs can also be running the P1TS Chrome app (as pictured below).
If you have only one dedicated P1TS server machine, rather than procuring a second dedicated P1TS server machine, a reasonable strategy might be to just run the second on a non-dedicated laptop (e.g., an engineer's), to achieve redundancy.
For greater reliability, it is highly recommended that the P1TS servers use wired Ethernet connections to the router. The new IMSA MicroTik Routers have 4 available Ehternet ports.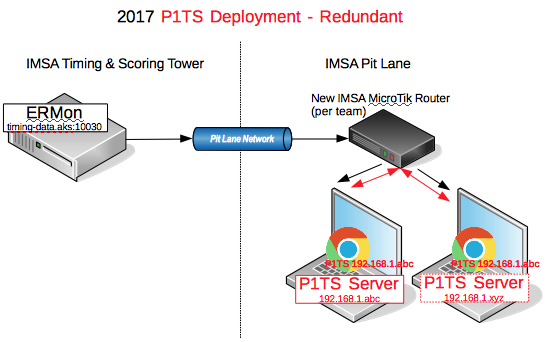 5.4 - WiFi
If you have more laptops than the 4 IMSA MicroTik Ethernet ports, or if you are using a wireless device like a tablet, you can either install a wireless access point or cascade your own WiFi router (pictured below).
During 2017 Roar, IMSA pit lane network staff told me they have pre-configured the new MicroTik routers to IP addresses 192.168.0.xxx, thus they will not conflict with the 192.168.1.xxx addresses typically configured by WiFi routers. The LinkSys "Cascading or Connecting a Linksys router to another router" article details the situation - http://www.linksys.com/ca/support-article?articleNum=132275
I highly recommend that your primary P1TS server, and even the secondary P1TS server, be hardwired via an Ethernet cable, for greater reliability. If your P1TS server is wireless and a hotspot (MiFi) comes near it, your P1TS server may decide switch to the hotspot network, in which case your P1TS webapp will not be able to get to the P1TS server.
Here are some factors to consider when choosing a WiFi router:

Detachable antenna. If you are planning on mounting the router inside your pit cart (good idea), you can mount the antenna on the exterior and connect it to the router with a cable. In practice this may not be too much of a problem. I've had good success with external antennas at home before I replaced it with a Ubiquiti WiFi access connected to the hardwired ethernet in my house.
Both 2.4GHz and 5GHz bands. I don't know how much interference there is from other 2.4Ghz routers in adjacent pit stalls, but this seems like a reasonable idea.
Having a USB port (hopefully version 3) may be useful for a printer and an USB driver or network external hard drive.
The Linksys WRT1200AC seems to satisfy these requirements http://amzn.to/2fBS18l (my associate link) and I am currently testing one.